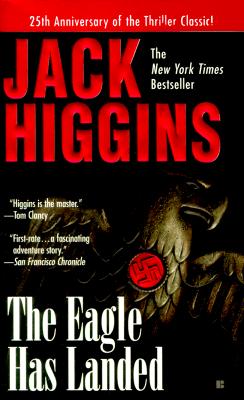 Well I picked this because I simply loved "The Day of Jackal" by Frederic Forsyth and another of his book and my research of this book told me that Jack Higgins if not better than Frederic is in the same league and Eagle Has Landed surpasses The Day of the Jackal.
Unfortunately whenever you have high expectations from something it generally disappoint, even if if it has been good if not compared.
The story depicts how Hitler orders his General to plan to kidnap Winston Churchil from Britain so that it will turn the tide of the World War II back in favor of Germany and how one of his Major devises the whole plan in which 16 paratroopers were to land in a small coastal village of England where Churchil was planning to spend a quite weekend. The book narates how they prepared to carry out the capture with the help of an old lady who was residing in that small town and was serving Germany as a spy since a long time with the sole hope of causing damage to Britain and an IRA soldier Liam Devlin who reached the village early and made all the arrangements. Like Day of the Jackal this too unfolds a meticulously planned plot which some how fails due to an act of bravery and sacrifice by a German soldier for the people of that village.
Honestly I did not like this book as much as I loved The Day of the Jackal. Yes Jack Higgins is comparable to Frederic Forsyth but the content and execution comes just short off.
Before I come to why so, let me first list down the pros of this book
Pros
1. The subject of Adolf Hitler ordering the kidnap of Winston Churchil right in the fag end of World War II is indeed quite fascinating and attractive.
2. Naratives and the charatcers are really admirable and to an extent lovable.
3. Despite it being a war / assassination themed story, there is large scale humane touch in it. It characters make you think that everything is not black and white in war. Even in the enemy ranks there are people who are good and likable.
4. Like I mentioned for The Day of the Jackal, despite you knowing that its a fictious failed attempt you crave for it to succeed.
Cons
1. Well the fact that the Day of the Jackal mentions to you in the second page itself that assassination attempt failed ,you still till the last page hoped for them to succeed. But in this book that feeling was not strong enough and you somehow were hoping it to fail sooner than later.
2. The books could had a few more twists and turns :) It looked too plain and simple at times.
3. For me the book failed to keep me revited to it as can be seen from the fact that it took me almost 2 months to finish.
4. Some questions were left unanswered in the end which I would have loved to know about.
Overall I would have give it 3 and 1/2 rating.
I can't say if I would like to read more from this author but as they say you never know when you might fall in love with a book ;)